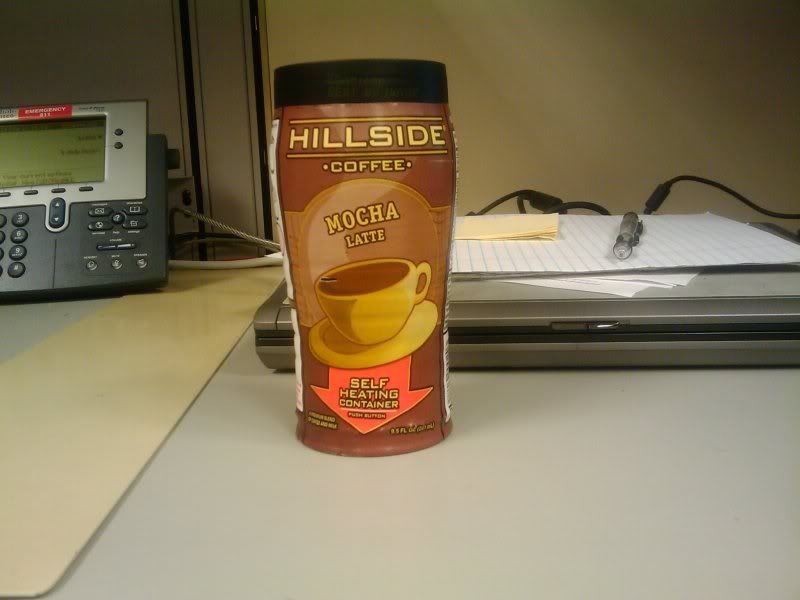 The picture above is of the coffee I had this morning. I had to go to
Walmart
to get some stuff for the Potluck at work and just happened to see this on the shelf. While not the best cafe mocha in the world, it is a very cool idea. I can't even begin to imagine the huge number of jobs out there where the workers would love to have some warm coffee readily available but can't because of a lack of ability to heat things during their work day.
They way the coffee heats is genius in its simplicity. Located under the bottom of the cup is a small button that you push on before opening the coffee. When you push it, a small container of water is punctured on the inside. The water flows into another opening which contains Quicklime, or Calcium Oxide (
CaO
). The reaction between H2O and
CaO
is exothermic, meaning it creates heat. This is kept separate from the coffee, which is good since the end result, Ca(OH)2, can be a health hazard if you are over exposed (besides the fact it would make your coffee task pretty bad). After about 5-8 minutes heat sensitive ink on the side of the package changes from pink to white and your coffee is ready to drink. 
I think the cost of it was about a $1.50, although I'm not sure since there isn't a price on the can and I already through away the
receipt